When shopping for the perfect product, customers want to find an item that feels like it truly belongs to them. The ideal customer experience provides shoppers with ample options and the ability to personalize their products to their liking, which keeps them confident in their purchase. By using a high-quality product customizer, businesses can achieve this and more.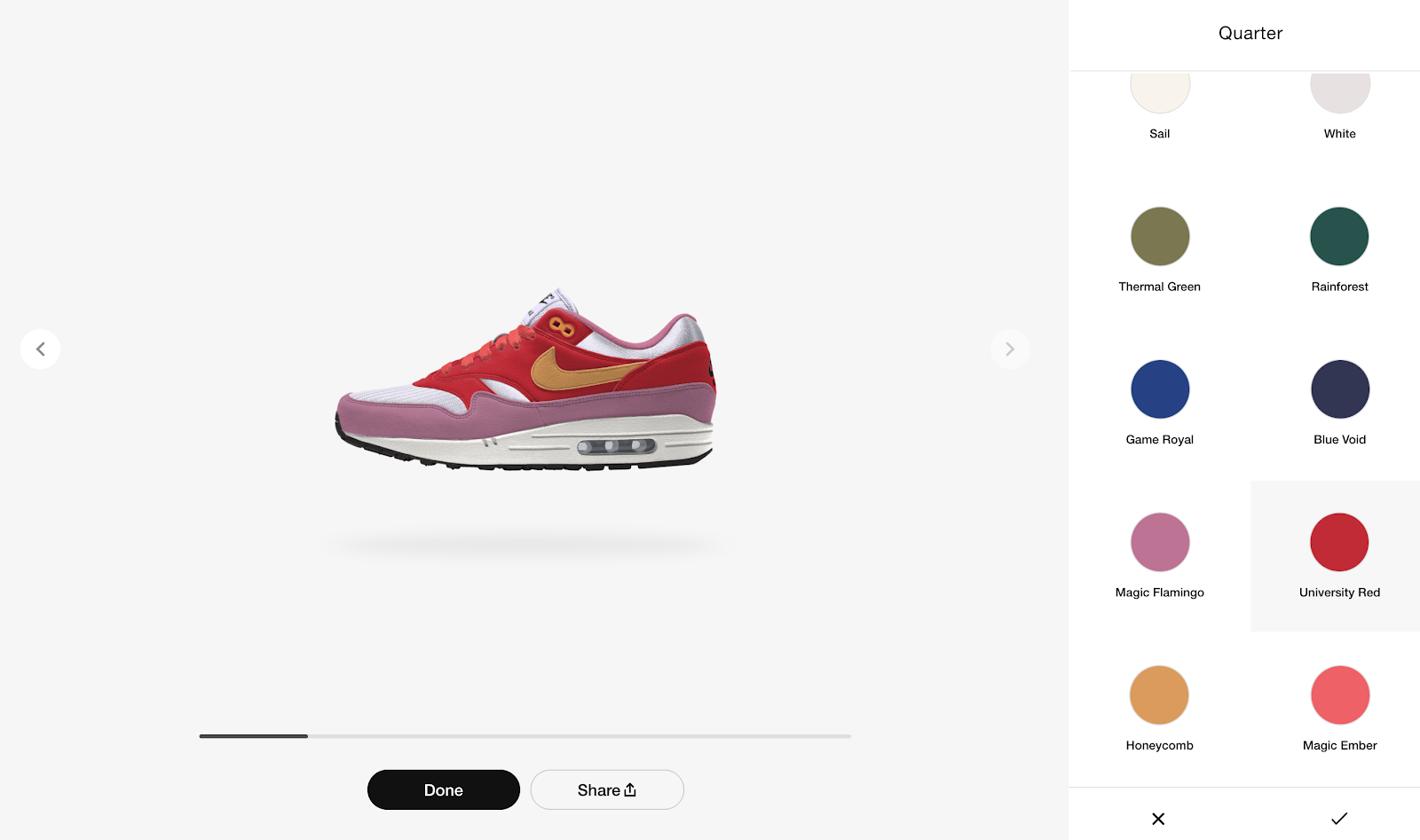 Brands like Nike are enabling customers to customize products based on highly specific preferences, which establishes stronger connections with audiences. In doing so, they're also able to significantly increase sales and generate higher ROI with custom products.
There are many clear benefits that make product customizers an invaluable tool available to retailers of all types. Here, we'll discuss the various advantages that eCommerce brands can enjoy when they use product customizers.
1. Appeal to a growing demand for product customization.
Product customization is becoming increasingly popular among all types of audiences. If it's possible to customize it, people are likely to buy it. Around 36% of consumers prefer customized products, according to a recent Deloitte study. If you want to get in on this growing trend, offering a product customizer can give customers the selection of features they've come to expect from many businesses.
One of the reasons why customization is more important than ever is the emotion attached to these products. When a customer feels like the product is truly theirs, it goes from being merely another product to a personal belonging.
2. Encourage customers to pay more.
In addition to boosting sales and customer satisfaction, a product customizer or configurator can actually get people to spend more on a product. In fact, one report from The Motley Fool found that customized products can sell for as much as 50% more than those sold in physical stores. The reason for this is that customers are more likely to pay higher prices if the product they're buying feels more personal
3. Increase customer loyalty.
Personalized products can also build more customer loyalty, as shoppers feel more satisfied purchasing from companies that give them some control over their purchases. When people have a positive experience using product customizers on an online store, they'll be more likely to return to that store for future purchases.
4. Set more realistic delivery time expectations.
Many eCommerce platforms such as Amazon have built unrealistic expectations when it comes to delivery times. Customers want the instant gratification of next-day or even same-day delivery, but when it comes to  businesses offering product customization, a Deloitte poll shows that online shoppers are willing to wait a little longer for delivery. 
This is because customers understand that a customized product takes more time to process and manufacture than generic products, with the added expectation of higher quality.
5. Boost eCommerce sales.
From simpler custom-printed T-shirts to more complex products that feature different colors, materials, dimensions, or even varying functionality, retailers can see a significant boost in sales by offering customization. If people know what to expect from the products they buy, they're more likely to be happy with their purchase and confidently click "order now."
If shoppers are especially happy with a product they bought, they may also recommend the store they patronized in customer reviews and other outlets. For example, satisfied customers may share their purchases on social media and encourage friends to buy from the same store, which essentially functions as free social media marketing.

6. Get ahead of competitors.
There are millions of eCommerce retailers out there beyond giants like Amazon, which can make the competition intimidating for smaller businesses. However, with the help of product customization software and a unique customer experience that audiences won't find elsewhere, you can set your company apart and gain a competitive edge.
While more companies are using product customizers and configurators, many are still neglecting to use them or take full advantage of them. Using even a simple customizer add-on on a Shopify or WooCommerce store could be the key to standing out in a sea of eCommerce competitors.
7. Gain better data about customers.
Offering product personalization through customization software can give your brand even more insight into your customers. Based on the different features that customers select in their favorite products, you can gauge customers' tastes and preferences. Using this information, you can make personalized product recommendations that are likely to appeal to them and keep them coming back.
8. Enjoy reduced return rates.
One issue that every business owner dreads is a product return. They can mean lost revenue along with additional costs and resources spent on shipping the product both ways.
Thankfully, businesses can greatly reduce the rate of returns by offering customized products that are more likely to keep customers happy. If shoppers have more control over a product through visual product customization and know what to expect, there's a much lower chance that they'll be disappointed later.
https://play.hubspotvideo.com/v/5037953/id/29147512816?autoplay=true&loop=true&muted=true&hiddenControls=true&renderContext=onload-placeholder&parentOrigin=https%3A%2F%2Fwww.threekit.com&pageId=47839288345&locale=en#hsvid=86fa7687-1757-469f-a2e9-345050868a84&t=1678436981236
9. Avoid abandoned shopping carts.
Another big problem that many businesses try their best to mitigate is that of the abandoned shopping cart. When shoppers seem like they're about to make a purchase but never reach the checkout screen, it can be very frustrating as business owners try to figure out what's holding customers back.
If customers are given the chance to customize their products and see how they'll appear before buying, they'll be much more confident in their purchase. Shoppers may also be more committed if they've invested more time in choosing from the different options available.
10. Make the sales process easier for sales teams.
By integrating a product customizer into your business's eCommerce experience, you'll also be able to make things easier for your sales staff. Sales reps can visit customers on-site or work with them in-store to customize products using innovative software. In the process, customers often make buying decisions faster when they can see both the product visualization and accurate pricing on the spot.
Reap the benefits of product customization with Threekit.
If you want to see the myriad benefits of product customization, Threekit can equip your business with the ideal solution. Using our cutting-edge product configuration software, you can give customers exactly what they're looking for with the perfect online shopping experience.
Not only can you provide customers and sales teams with easy-to-use customization tools, but you can also use Threekit to harness the power of augmented reality (AR) and 3D technology to bring your product visualizations to life. Customers can make updates to in-depth 3D visualizations in real-time and use AR to project them in real-world spaces.